While customizing WordPress websites you may need WordPress Post ID or Page ID. Generally, you will need Post ID or Page ID, when you are customizing a specific WordPress theme or using a particular widget, or plugin. Using the page or post IDs, you can decide whether to include or exclude specific pages or posts. In this tutorial, you will learn how to find the Page ID and Post ID in WordPress.
What is Post ID or Page ID
On a WordPress website, each piece of content has its own unique ID number. This includes users, comments, media files, categories, tags, and pages and posts, among other things. These IDs allow you to identify, query, and target specific material while also helping to organise the content in the database of your website.
Find Post ID in WordPress
Steps to find Post ID in WordPress without plugin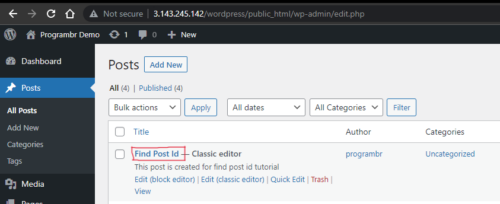 Find Page ID in WordPress
Steps to find Page ID in WordPress without plugin